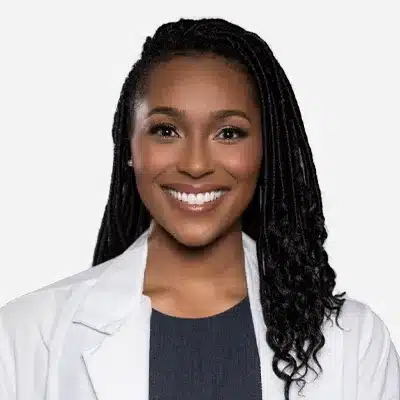 Dr. Vincent, thank you for speaking at my White Coat Ceremony today at CSPM. You are so inspirational and will forever remember the things you said today throughout my career. You are amazing and such an honor to hear from you.
Follow Dr. Ebonie Vincent
Dr. Ebonie Vincent is a Board-Certified Foot and Ankle Surgeon at Orange County Podiatry who specializes in surgical reconstruction of foot deformities, such as bunions, hammer toes, heel spurs and plantar fasciitis and minimally invasive surgery of the foot and ankle for both children and adults. As a public speaker, she speaks on highly requested topics such as Diversity and Equality, Team Building, Leadership, and wellness/work/life balance.
She's also an accomplished TV personality; her TLC hit show "My Feet Are Killing Me" follows Dr. Ebonie Vincent and Dr. Brad Schaeffer as they treat patients with extreme cases of bunions, growths, and other foot-related maladies—in short, people whose feet are literally killing them. She has made recent appearances on the "Dr. Oz Show," "Tameron Hall show," "The Daily Mail TV," and many more! Dr. Vincent fan of Broadway shows, working out on her Peloton bike, long walks on the beach, or just hanging with family and friend's poolside!
A Personal note from Dr. Ebonie's
People ask me all the time, "How did you get to be so successful?" I want to tell you my story. It's about where I grew up and how I became a famous TV personality and Foot & Ankle surgeon.
I was born in the small town of Ames, Iowa where my father was a football coach at Iowa State University. I grew up with parents who emphasized the importance of doing the little things right and being present in every situation.
I received an athletic scholarship for Volleyball from Hampton University, my home by the sea, where I learned the value of teamwork and hard work.
I still remember my season-ending knee injury, the feelings of doubt and fear I had about playing again. I worked hard on my comeback because I wanted to be there for my teammates and It was then that it hit me: this is what life's all about, giving back with your skills and time so others might succeed in their endeavors too!
After deciding what I wanted to do, which was very difficult because there are so many choices, I found there was a variety of skills I possess that I wanted to display in my career choice.
The one thing I really wanted to do was play basketball as my career but that wasn't in the cards for me, so when it came down between medicine or engineering. Medicine caught and held on tight because of how much. Many people ask me why I chose a career in podiatry as many deem the feet as the least desirable part of the body. My answer to this question is always the same; disease of any kind is not pretty. It takes a special heart and a strong stomach at times to handle problems with the feet and to help to get patients back on their feet. Podiatry care is something that can literally change peoples lives for the better!
My first priority every day is taking care of patients, but there are many other aspects that come into play with being a doctor: like educating medical students about how they can better help their own future patient; or conducting research on new treatments for arthritis to help people live pain-free and active lives; or performing surgery on a diabetic patient in order to give them the best chance of survival and a better quality of life.
Being a doctor is not a job, it's a way of life. A successful physician never stops learning from their patients and colleagues about new treatments or cutting-edge techniques that will help them in the future. With my success as a TV personality, I am now able to promote the field of Podiatry. The show has given hope to many people from all over the world to seek treatment for their foot and ankle conditions. I want to use my platform to help the next generation of foot and ankle surgeons by mentoring them. I also want to make sure people who are in need have a voice through my show, so that they can feel as though someone is fighting for them. Public speaking has given me a new way to share my knowledge and experience with others.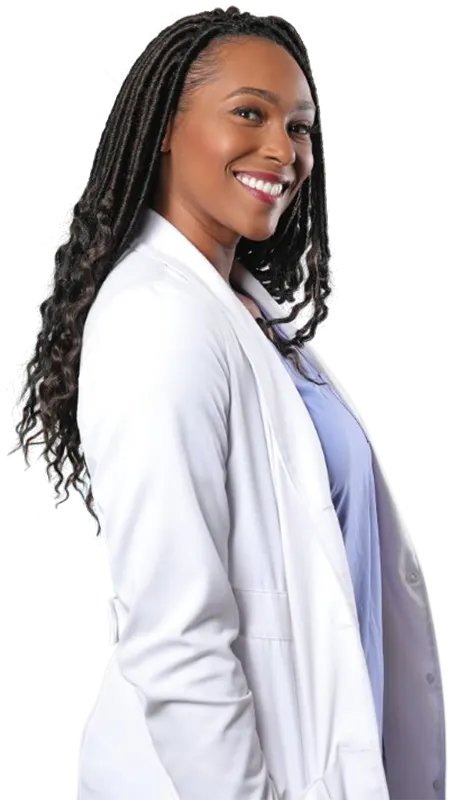 Notable Speaking Engagements
Dr. Oz, Fox News channel, The Tameron Hall Show, Right This Minute online cable program, The Daily Mail TV, and Host of the TLC Hit series, My Feet are Killing Me.
Dr. Vincent is a singer and performer; having performed at many events including singing the national anthem.
EBONIE VINCENT is availableto be your next Keynote Speaker, Public Appearance, Master of Ceremonies, Autograph Signings, and Influencer Endorsements.
To schedule Dr. Ebonie Vincent for your next event, contact Talent Concierge® Artists Agency